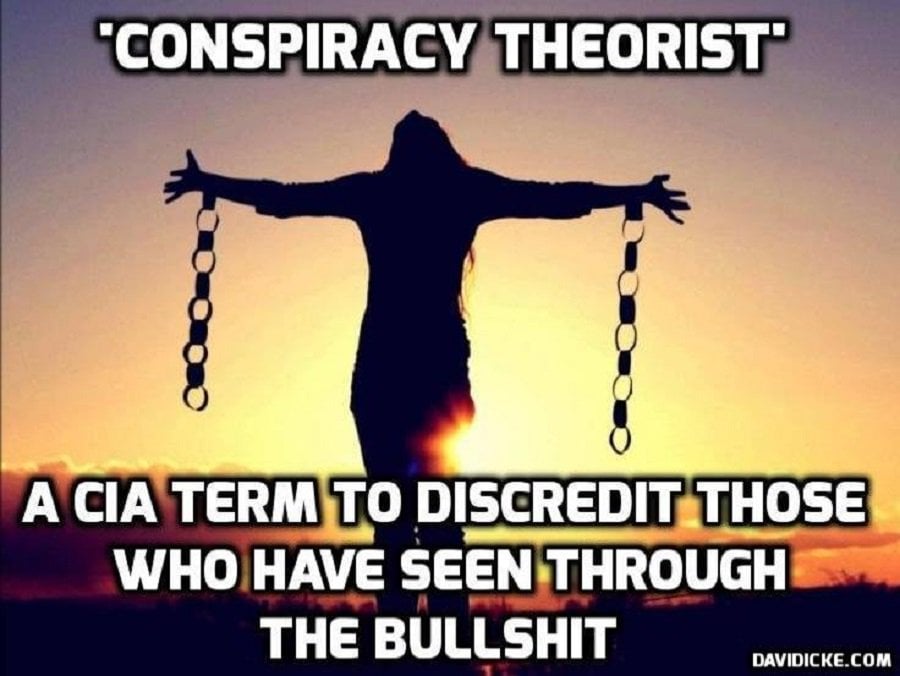 There are certain assumptions that are applied to anyone labelled a "conspiracy theorist"—and all of them are fallacies. Indeed, the term "conspiracy theory" is nothing more than a propaganda construct designed to silence debate and censor opinion on a range of subjects. Most particularly, it is used as a pejorative to marginalise and discredit whoever challenges the pronouncements and edicts of the State and of the Establishment—that is, the public and private entities that control the State and that profit from the State.
Those of us who have legitimate criticisms of government and its institutions and representatives, who are therefore labelled "conspiracy theorists," face a dilemma. We can embrace the term and attempt to redefine it or we can reject it outright. Either way, it is evident that the people who weaponise the "conspiracy theory" label will continue to use it as long as it serves their propaganda purposes.
One of the most insidious aspects of the "conspiracy theory" fabrication is that the falsehoods associated with the term have been successfully seeded into the public's consciousness. Often, propagandists need do no more than slap this label on the targeted opinion and the audience will immediately dismiss that viewpoint as a "lunatic conspiracy theory." Sadly, this knee-jerk reaction is usually made absent any consideration or even familiarity with the evidence presented by that so-called "lunatic conspiracy theorist."
This was the reason why "conspiracy theorist" label was created. The State and its propagandists do not want the public to even be aware of inconvenient evidence, let alone to examine it. The challenging evidence is buried under the "wild conspiracy theory" label, thereby signalling to the unsuspecting public that they should automatically reject all of the offered facts and evidence.
There are a number of components that collectively form the conspiracy theory canard. Let's break them down.
First, we have a group of people who supposedly can be identified as conspiracy theorists. Second, we have the allegation that all conspiracy theorists share an underlying psychological weakness. Third, conspiracy theory is said to threaten democracy by undermining "trust" in democratic institutions. Fourth, conspiracy theorists are purportedly prone to extremism and potential radicalisation. Fifth, conspiracy theory is accused of not being evidence-based.
According to the legacy media, there's a link between so-called "conspiracy theory" and the "far right" and "white supremacists." Guardian columnist George Monbiot, for example, wrote that:
[. . .] conspiracism is fascism's fuel. Almost all successful conspiracy theories originate with or land with the far right.
Apparently, this is a common belief held by people who imagine that "conspiracy theory" exists in the form they have been told it exists. It is also a bold claim from an alleged journalist. There is no evidence to support Monbiot's assertion.
Numerous studies have tried to identify the common traits of conspiracy theorists. These studies tend to initially identify their subject cohort simply through opinion surveys. If, for example, someone doesn't accept the official accounts of 9/11 or the JFK assassination, the researchers label them "conspiracy theorists."
Probably the largest demographic study of these alleged "conspiracy theorists" was undertaken by political scientists Joseph Uscinski and Joseph Parent for their 2014 book American Conspiracy Theories. They found that "conspiracy theorists" could not be categorised demographically.
Read More – Some Call It Conspiracy Theory – Part 1