Australia emphatically rejected enshrining an Indigenous Voice to Parliament advisory body in the constitution at the weekend's referendum, with a 60/40 split for No vs. Yes.
With most of the vote counted, it is predominantly the urbane, wealthy electorates clustered around major cities that voted Yes (purple), with by far the majority of electorates falling to No (orange. White is too close to call until counting finishes).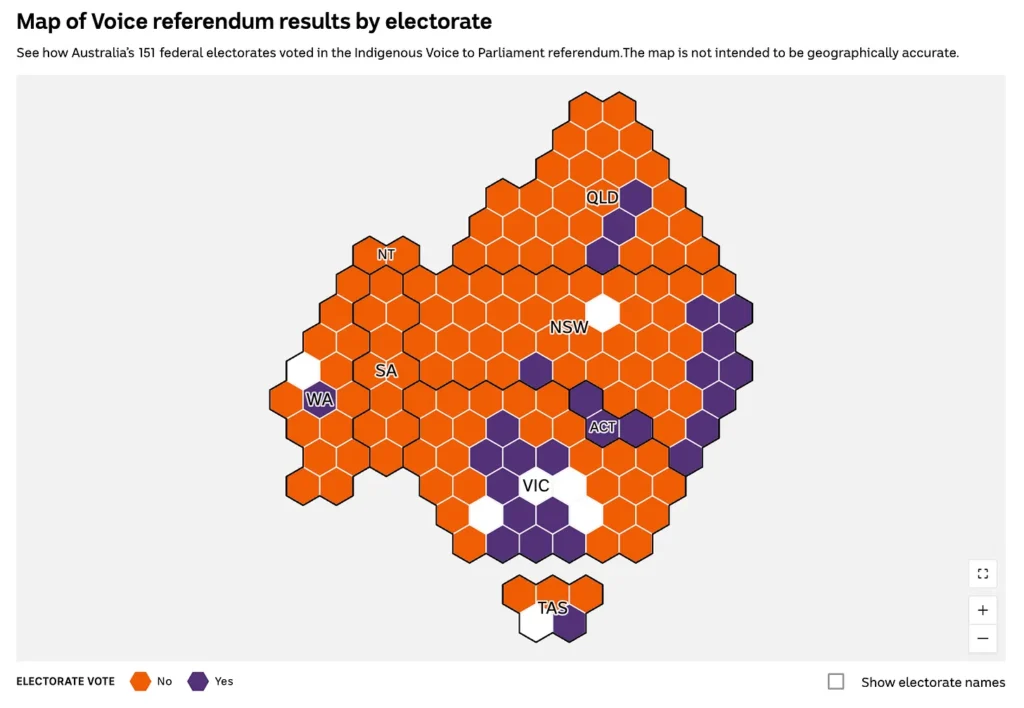 Yes and No campaign leaders, Prime Minister Anthony Albanese (Yes) and Shadow Minister for Indigenous Affairs Jacinta Nampijinpa Price (No) both acknowledged in their referendum night speeches that Australians all want what's best for Indigenous Australians – they just have different ideas about how to achieve that.
Had this been the message at the heart of the referendum campaign from the beginning, the Voice debate might have been a unifying experience. But it wasn't.
In a statement released over the weekend, Indigenous leaders in support of the Voice called the referendum result a "tragic outcome" and called for a week of silence in mourning.
It deeply saddens me that the statement is premised on an untruth.
It begins:
Recognition in the constitution of the descendants of the original and continuing owners of Australia would have been a great advance for Australians. Alas, the majority have rejected it.
That is completely untrue. People are grieving over a lie.
Recognition on its own had bipartisan support, which has historically been necessary to get a referendum over the line. Albanese knew that you can't win a referendum without bipartisan support, but he forged ahead anyway. A referendum for recognition would have romped it in, of that I am certain.
Australians didn't reject the recognition of First Nations people at the referendum. They rejected the double-barrelled proposition of recognition in the form of a Voice to Parliament enshrined in the constitution.
It was grossly dishonest for the Yes campaign to run a motte and bailey argument on this point, retreating to the motte ('we're only asking for recognition') when the bailey (a permanent, ill-defined advisory body) proved hard to defend.
By doing so, they set up those Indigenous Australians who voted Yes to the Voice for a heavy sense of personal rejection should the majority of Australians vote No – which was always likely, based on Australia's referendum history of what works (bipartisan support, long period of socialisation, clarity in messaging) and what doesn't.
Commentary from Yes partisans who bought into the motte and bailey fallacy indicate that many of them too feel this devastation. Take this from the Guardian on the night of the referendum:
Read More: Australia's Emphatic Rejection of the Voice to Parliament at the Weekend's Referendum Reveals Some Home Truths