A food delivery robot company that delivers for Uber Eats in Los Angeles provided video filmed by one of its robots to the Los Angeles Police Department as part of a criminal investigation, 404 Media has learned. The incident highlights the fact that delivery robots that are being deployed to sidewalks all around the country are essentially always filming, and that their footage can and has been used as evidence in criminal trials. Emails obtained by 404 Media also show that the robot food delivery company wanted to work more closely with the LAPD, which jumped at the opportunity.
The specific incident in question was a grand larceny case where two men tried (and failed) to steal a robot owned and operated by Serve Robotics, which ultimately wants to deploy "up to 2,000 robots" to deliver food for UberEats in Los Angeles. The suspects were arrested and convicted.
"Evidence Submitted from Serve Robotics," is the subject line of a July 2023 email thread between Aduke Thelwell, Serve's head of communications, and an LAPD detective. 404 Media obtained the email and others through a public records request with the LAPD. It should be noted that Serve has touted its robots' autonomous capabilities, and has claimed it's deploying "AI-powered" robots in the city, but delivery robots are still often driven by remote human operators. Serve writes in its app that the robots are "autonomous, remotely supervised."
The emails are discussing a redacted subpoena from the LAPD in that case, which the company says resulted in a criminal conviction. "Hi Detective Estrella, confirming that we have uploaded the robot camera footage and a letter confirming the cost of the robot using the link you provided. Please let us know if you need anything else," Thelwell wrote.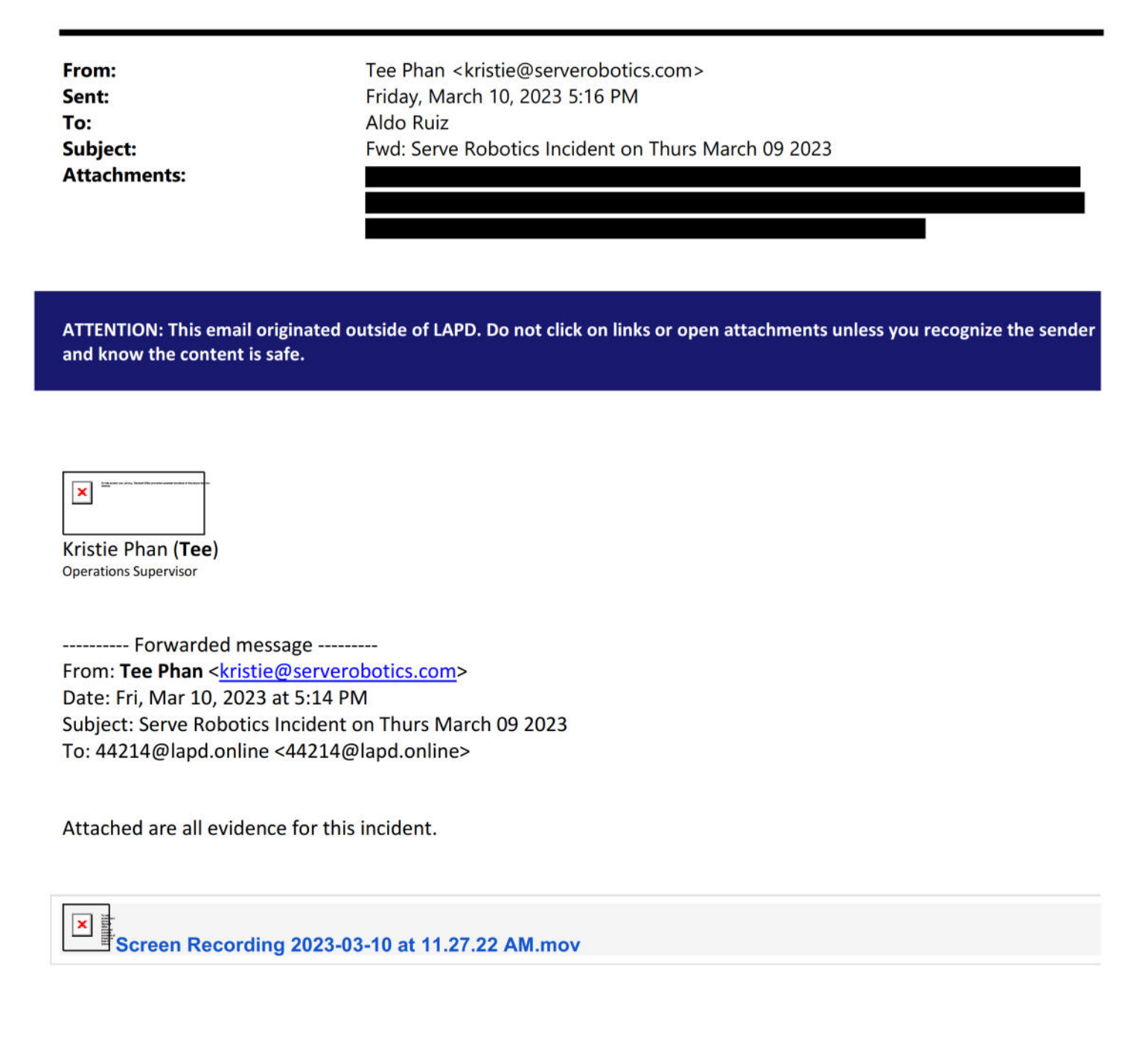 Read More: Food Delivery Robots Are Feeding Camera Footage to the LAPD