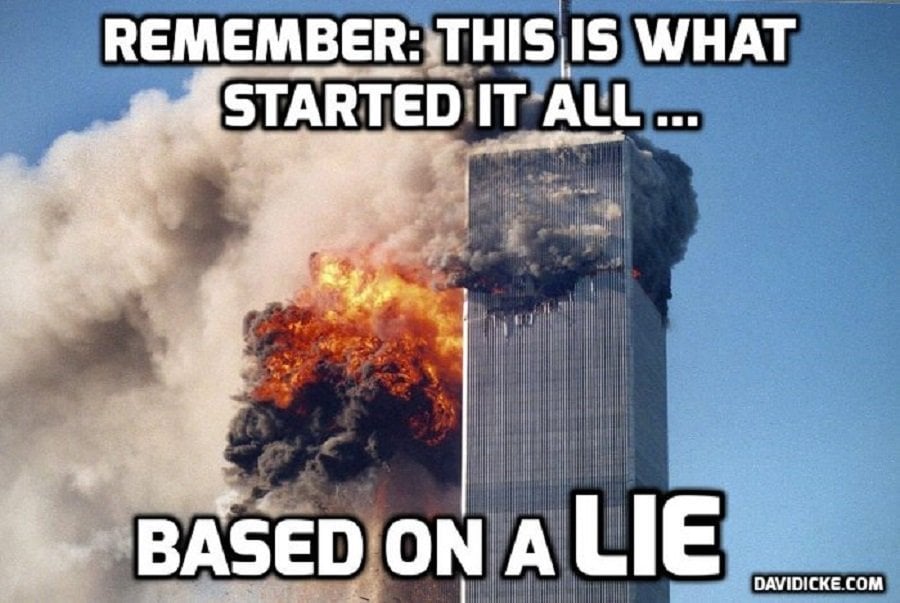 Carol Harmer, retired financial trader, remembers September 11th 2001 all too well. Not only could she have been working at the WTC that day, but she was also flying the day the towers came down. Here's her story…
As told to Jacqui Deevoy 
"As a financial trader, I zoomed around Europe quite a bit – mainly Geneva, Zurich, Paris. In the mid-80s, I was lucky enough to go to New York to work in the Twin Towers and then in Chicago, Wall Street – not for long, but long enough to get the feel about how different the financial markets were from London, where I was based.
I was offered a job in NY but as a single mum of two young sons, I had to turn it down.
Later though, in mid 2000, my life was very different. My son's had left home, I was single and I had been offered a year's contract in NY to set up a start-up technical trading department. I was due to leave London on February 1st 2001 for a year. I was excited about going back to NY to work for a year in the North Tower – on the 8th floor.
But then at my son's wedding in summer of 2000, I reconnected with my ex-husband. I hadn't seen him since we'd broken up seven years previously but that day at the wedding it was pretty clear the feelings were still there.
When I found out my son and his new wife were expecting a baby a month after my new job was due to start, I had no choice but to turn down the job. I was disappointed I wouldn't be going to NY but there was no way I was going to miss the birth of my first grandchild. So I recommended a good friend of mine for the job (he was snapped up immediately!) and I stayed out in my job in London as a financial trader.
In the late summer of 2001, my husband and I booked a holiday in Turkey. The departure date was September 10th. For some reason, I felt really nervous about flying that day, so much so that I actually threw up several times. It was a late-night flight: we were due to land in Dalaman at 3am on September 11th.
On the plane, I felt terrible. Really nervous. The flight was fine though and after a short coach trip we arrived at the hotel.
I was so excited about the coming day. Even though I was on holiday, I couldn't take my mind off my work. I never could. I had made sure the trading floor knew that the S & P 500 FTSE (the US stock market that's not industrial or tech) and all stock markets were going to trade lower. I told them I had my mobile phone with me should there be any problems but to only use it in emergencies. Gold was turning to go higher as well, so all my clients knew where I thought the market was going, and where I was positioned myself.
We didn't wake up till late and wandered down into reception.
The TV was on… I glanced at it and fleetingly thought it was showing a Mad Max film, but then I did a double take. NO… it couldn't be! That could not possibly be the Twin Towers.! My knees buckled… I couldn't breathe… My brain kept screaming no, no, no… My friends… my work colleagues… had they all been killed?
I didnt realise I was lying on the floor until the hotel manager and my husband were trying to get brandy down me. I could hear howling… where was that coming from? I realised it was me. I couldn't think, couldn't breathe, couldn't comprehend. My friends, the guys I talked  to 20 or more times a day, every day, since 1983…
I remember people trying to lift me up, being laid on a settee, still howling; being given brandy, pushing them away. I wanted to speak but nothing would come out. My eyes were still on the massive TV screen, watching the horror unfold, people jumping. I must have stopped howling by then but I still couldn't talk. I tried to stand but failed. I tried again and I walked towards the TV screen. I was silently crying – no sound , just tears – then I started screaming…
The TV kept showing the same scenes over and over. Then I had another thought: my son. He worked in Canary Wharf in London. What if Canary Wharf was destroyed too?
I turned on my mobile: there were hundreds of messages. I tried calling my son… no answer. I tried to call my friends in Canary Wharf: no answer. For some bizarre reason, I tried to ring a friend who worked in the North Tower. No answer.
I tried to stay standing – I really did – but I failed and that was when a doctor was called.
September 11th 2001 was supposed to be the first day of my second honeymoon and now all my friends are dead. No one could have got out – the 40,000 people who worked there must have all died. My son, my friends in Canary Wharf – were they dead as well?
I remember a man kneeling next to me. He told me it would be all right. He said this injection would make me feel better…
I woke up in my room at 3am the next morning. I went down to reception. There was a woman standing at the desk: she turned and looked at me and asked if I was Carol. I nodded. She said "come with me." Who was she and why was I following her? We went to the back of the hotel to a prayer room. I just looked at her: did she really expect me to pray? And, if so, to whom? She said "I am a Muslim, you are a Christian, but at the moment none of that matters. We are two people who just need to be quiet and pray for those who have died. So I followed her, knelt down and closed my eyes and, for the first time in my life, I prayed – not for myself but for the people of the Twin Towers and the people of NY, because I knew this would haunt every single person in NY and in America for ever more.
After I just wanted to go back to the UK but there were no flights.
The woman who had taken me to pray was the hotel owner: she said it would be safer if my husband and I stayed in the hotel complex. The TV was still playing the same scenes over and over. I had convinced myself no one had escaped. Yes, there would have been an evacuation protocol, like we had in Canary Wharf, but that's usually a case of staying where you are and waiting for help. The towers were different though. North and South Towers had over a 100 floors with different speed lifts. All floors were full – of people, of life – and the floors where the planes hit were doomed… no one could survive that. I knew the lifts would stop, electricity would stop… would the generators kick in? Would people actually stay on their floor? How could they escape ?
It was the first time in my life I had ever felt hate. I could taste it. I could smell it. I hated those terrorists with every fibre of my body, as I imagined the terror those trapped in the Towers with no way out would have felt.
On the 4th day my husband and I left the hotel complex. As we walked down the street, we were spat at and called names we didn't understand. We noticed posters of Bin Laden everywhere and people were kissing them. I was so confused…
That same day, I found out Canary Wharf had been evacuated so my son and colleagues were all safe.
My friend in NY messaged me saying he was safe. He said it had been hell. I just sobbed in gratitude. I still didn't know how many were dead in NY. It wasn't  possible to know but stories were coming out of NY that the majority of people had escaped, that they'd had not listened to protocol and had walked down the stairs assisted by NYFD and NYPD, many of whom had died trying to rescue people.
In Turkey, planes eventually resumed their flights but mainly to get their citizens out of Turkey. My husband and I were still stranded. I wanted out. We looked at hiring a car and driving after getting a boat to Greece but realised that was never going to work.
I spent all my time answering hundreds of messages from friends, family and work colleagues. Then I got a phone call from a friend in Chicago saying the whole of Cater Allen Stock company had been wiped out… all of them.
There wasn't much to do after that. I just wanted to go home. The TVs, although still on  in certain places in the complex, were not in your face like that first week. I remember looking at people on their holidays laughing, joking, in the pool, and I was inwardly screaming. How could they be laughing and joking when thousands of people had died in the towers?
Two weeks later, we were out on our way home. My heart was aching for the victims of this attack. I also mourned the loss of those towers that rose so majestically in the New York skyline – it would never be the same without them. I had dealt with colleagues in NYC for 20 years then, worked beside them in the City of London, worked in NY with them… I knew the people of NY were tough and, although broken at that point, they would rise again.
I also knew that the city now had a scar and, every night and every morning, those that looked over the NY skyline would feel that loss… most probably until their dying day.
Since then, I've tried to make sense of what happened that day. At first, I believed the government, but then information came out that didn't make sense… The owner Larry Silverstein reinsured the towers for $5 billion less than a month before the towers came down. These days, I'm convinced the CIA orchestrated it in order to start a war with Iraq. I don't think President Bush knew about it. Did you see his face when he first heard? He looked shocked. I really believe he didn't know – but others did, that's for sure."