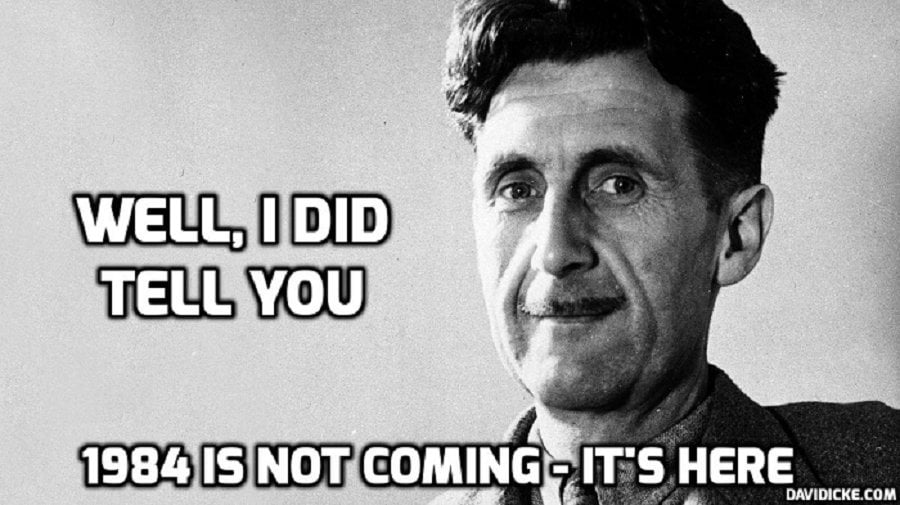 The European Union has been accused of creating Orwellian "ministries of truth" that will ensure wrong thoughts are not allowed in a bid to tackle disinformation online. The Mail has the story.
It is expected that those in charge of the platforms that must comply with the regulation will prioritise advice given by EU-approved "trusted flaggers" and fact-checkers monitoring information posted online.

Cristian Terhes, a Romanian MP and Member of the European Parliament, argued the bloc's Digital Services Act provides it with enough power to rule on what content is true and false when it appears on the websites of some of the world's biggest providers.

He told the Telegraph: "The European Commission has taken a page out of Orwell's Nineteen Eighty-Four and demanded that EU member states set up Government-sponsored ministries of truth to ensure that wrong thoughts and banned words are not allowed into the digital space.

"Surely in a democratic society, it's the public, who hear or have access to all arguments, who are the ones to make up their mind on the truth or attractiveness of certain facts, ideas or parties.

"Surely it is for the people to hear and decide what they hold as true or desirable rather than Government bodies."

The Digital Services Act aims to protect European users when it comes to privacy, transparency and removal of harmful or illegal content.

The regulation, which was put into effect on August 25th, outlines the need for the EU's 27 member states to set up a network of "trusted flaggers", with expertise in monitoring illegal or harmful content.

The rules aim to set new standards for policing hate speech, disinformation and counterfeits on the web, and all large digital platforms must follow them.

The new standards were implemented to tackle how tech giants such as Google and Facebook operate in Europe, but websites and online platforms bringing in 45 million monthly users will also be included.

Instagram and TikTok are among the 19 platforms that must comply with the special obligations under the regulation.
It's by now obvious to most people that so-called 'trusted flaggers' are just organs for enforcing a politically-approved version of events. We've seen this repeatedly during the pandemic, where anything which contradicts the constantly shifting official narrative is labelled 'misinformation' and subject to suppression and censorship online.
Read More: EU Accused of "Taking a Page Out of Orwell's 1984" with the Creation of "Ministries of Truth" that will "Ensure "Wrong Thoughts are not Allowed"