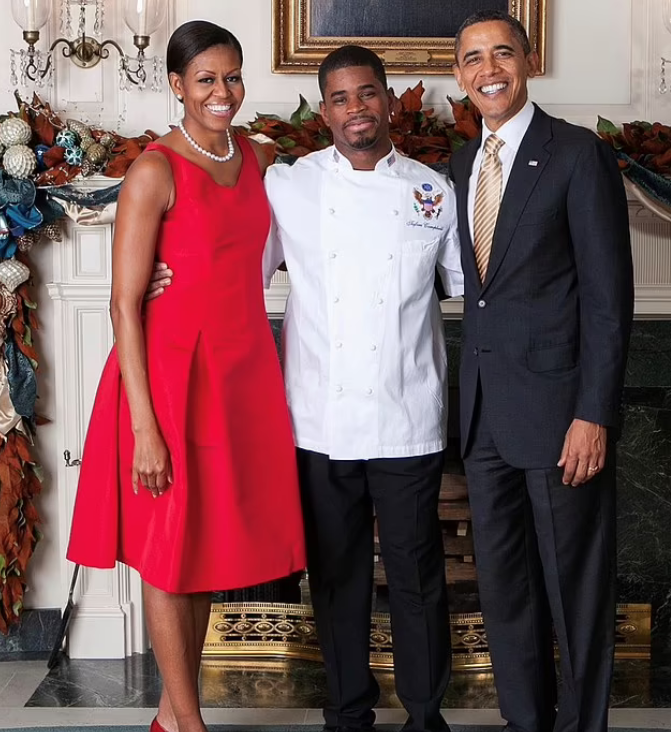 Police in Massachusetts are continuing to cover up information about the death of Obama personal chef Tafari Campbell even after declaring the case closed this week, DailyMail.com can reveal.
The response has prompted an outcry from First Amendment advocates who have been left asking: 'What do they have to hide?'
And it has also sparked a plethora of conspiracy theories including the role of the former president's family in the cover-up and Campbell's relationship with the  unidentified woman who witnessed his death.
Earlier this month state police had withheld information under the guise of an 'ongoing investigation', citing a Public Records Law exemption that allows authorities to keep details on grounds that it could jeopardize an active investigation.
But after the 45-year-old's death was officially ruled an accidental drowning earlier this week, authorities are yet to address how an apparently capable swimmer, paddle boarding near the ex-president's summer home in Martha's Vineyard, could have drowned in shallow water.
Details have trickled out from unofficial sources since then, with DailyMail.com exclusively revealing last week that Campbell's paddle boarding companion was a woman who worked in the Obama household.
Now we can reveal that she is 26 years old. Her identity, however, is still unknown.
Read more: No 911 call … No toxicology … No ID of witness, 26: What are the Obamas trying to hide about the death of personal chef while paddle boarding in pond outside their Martha's Vineyard mansion?