A trip to Walt Disney World or Disneyland with the whole family is too expensive. Former and current Walt Disney Company CEO Bob Iger recently admitted customer affordability issues at an investor conference. And the direct consequences of price-gouging families, plus the "woke" backlash, might have led to one of the slowest periods at Walt Disney World in Orlando on July 4 in a decade.
Disney World in Orlando is suffering – here it is nearly mid-July, schools are out, families are on vacation, and the streets at Disney are just about empty! pic.twitter.com/y0wf0ZvB4Z

— Old Spook 👻 (@maxheadroom470) July 8, 2023
The Wall Street Journal cited new data from Touring Plans, a company that tracks wait times at theme parks, which reported Disney World and Disneyland in California had significantly lower wait times to get on rides on Independence Day weekend.
According to Touring Plans, Disney's Hollywood Studios theme park in Central Florida experienced the third-slowest day in the past year. The average wait time at the Magic Kingdom park was around 27 minutes, down from 31 minutes in 2022 and 47 minutes in 2019.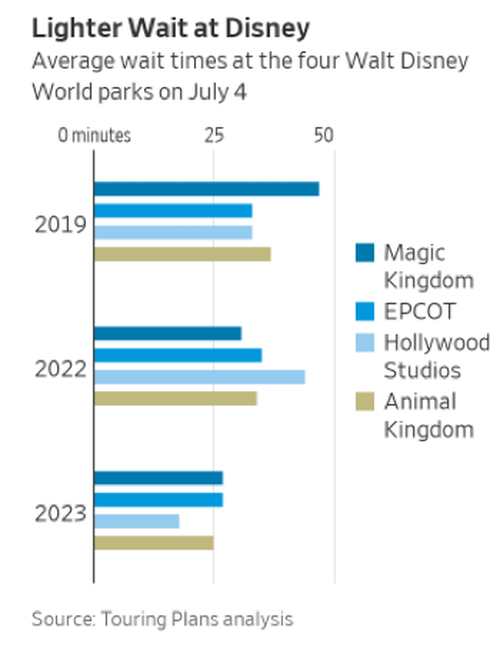 Read More: Where Is Everyone? Disney World "Just About Empty"