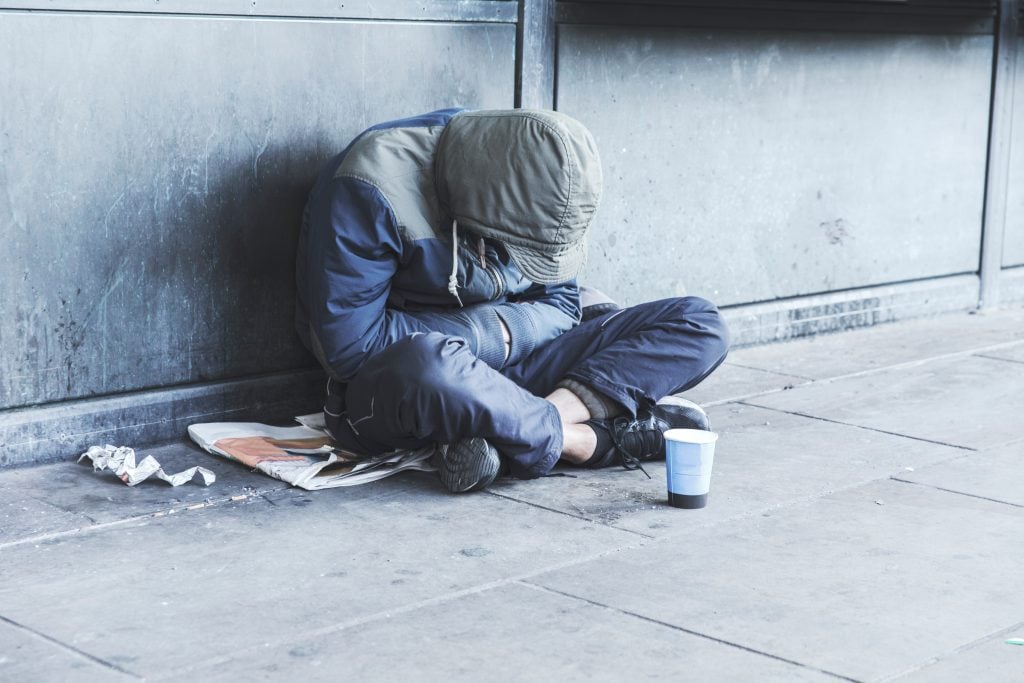 The number of homeless on the streets of the Big Apple has risen by almost 18 percent in the space of a year, despite the mayor pledging to tackle the problem.
The annual Homeless Outreach Population Estimate (HOPE) survey that was conducted in January revealed a total of 4,042 people sleeping rough in the subways or on the streets of New York City compared with 3,439 in 2022.
The rise comes despite Mayor Eric Adams administration's pursuing aggressive measures to tackle the problem including enforcement, sweeps, and outreach initiatives.
The city's homelessness situation has returned to pre-pandemic levels and is now reminiscent of when then-Mayor Bill de Blasio also faced criticism for insufficient action on the issue.
'Over this past year, our agency has responded to a massive humanitarian crisis while ensuring that we are effectively delivering on our mission to address homelessness in New York City,' Commissioner Molly Wasow Park, responsible for the Department of Homeless Services stated.
Officials appear to have come up with at least one excuse as to why the numbers went up and suggest the recent mild winter compared to previous years might be to blame.
But the weather only goes part way to explaining why the numbers have gone up despite recent street sweeps and a $171 million funding boost for outreach efforts.
While street homelessness went up by 18 percent the situation in the city's shelters is even worse with the population doubling due to the influx of migrants from the across the southern border.
Mayor Adams proudly touted his increased spending to combat homelessness in 2022, but the results have been underwhelming.
An audit by Comptroller Brad Lander revealed that out of 2,308 homeless New Yorkers living in encampments, only 119 individuals had been successfully transitioned into the shelter system – equivalent to a rate of only 5 percent.
Last week, city officials said the number of homeless people in New York City shelters had surpassed 100,000, a record high attributed to migrants.
The number of migrants in shelters passed 50,000 a few days earlier. More than two thirds of them are made up of families with children, the city's deputy mayor told The New York Times.
City Hall Press Secretary Fabien Levy says the city had reached a 'tipping point.'
He called for more support from the state and federal government, saying it was 'now caring for more asylum seekers than long-time New Yorkers experiencing homelessness.'
Under Mayor Eric Adams, the city has spent more than a billion dollars to shelter migrants since they started arriving in large numbers in early 2022.
The costs are set to reach $4.4 billion by next year.
Adams has called the immigration crisis a 'disaster' and his administration has opened 174 emergency shelters and intake centers.
As well as housing the homeless in the city's regular shelters, officials have had to spend eye-watering sums on taking over hotels and other venues to house at least 17,000 unsheltered migrants.
The mayor has even used $50,000 of the city's money to send 114 migrant households to red states including Texas and Florida, with some even being sent as far as South America and China.
Earlier this year, Adams visited the U.S.-Mexico border and called the situation 'a disaster' that needed to be addressed at the federal level.
The visit came after governors from Republican-led states like Florida and Texas began busing and flying migrants in to New York City in 2022.
In late-May Adams called for migrants to be sent to every major city in America.
Happy holiday from Philly! Depressing sight from birthplace of American independence as drug users and homeless blight city
Disturbing photos have revealed Philadelphia's drugs crisis, with homeless people shooting up on the streets of the birthplace of American independence over the Fourth of July weekend.
The Kensington neighborhood, 'ground zero' for the city's drug epidemic, is seen strewn with trash and addicts injecting drugs in the middle of the day.
The disaster has been fueled by the rise of the drug Xylazine, known as 'tranq' – a lethal sedative that is used to enhance the effects of heroin, fentanyl and cocaine.
Philadelphia has become overwhelmed by drug-fueled crime under Democratic District Attorney Larry Krasner, a self-described 'progressive prosecutor.'
His failure to crack down led to his impeachment in 2022 for 'dereliction of duty', however he remains in office after his trial was indefinitely postponed.
The latest evidence is captured in photos and video of the Kensington neighborhood, overrun with addicts, garbage and drug paraphernalia.
Addicts are seen injecting drugs into their legs, their arms and necks in broad daylight in the middle of the sidewalk.
Emaciated homeless people are passed out in the street next to empty bottles and plastic bags.
Crime has soared by a fifth in Philadelphia compared to last year, with theft among the law-breaking which has made the problem persistent.
Homeless people and drug addicts are often driven to petty theft as a way to find sustain themselves or scrape enough money together to supply their addictions.
Footage by Dailymail.com back in May revealed the scale of Philadelphia's untamed 'tranq' epidemic, which has transformed the city's streets into a drug-infested hellhole.
Just two months later, images show that the situation is the same.
Read More: Happy holiday from Philly! Depressing sight