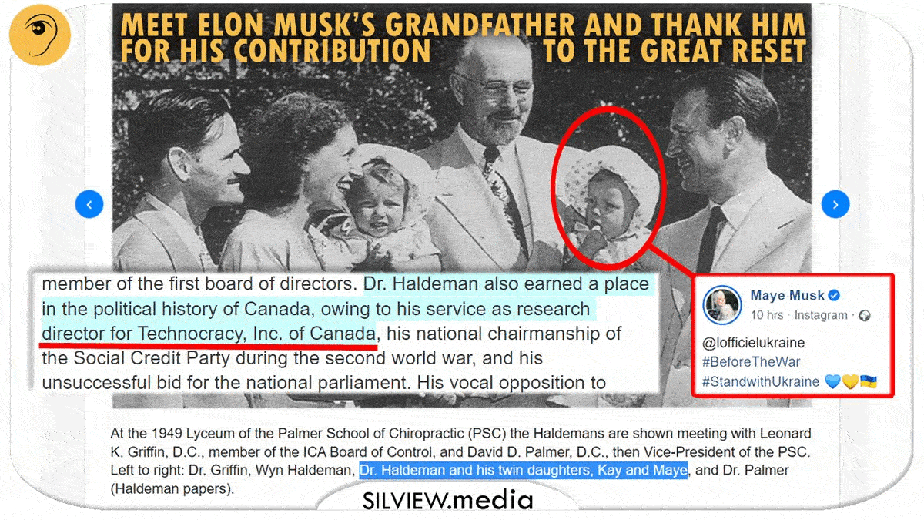 Elon Musk is not trolling Twitter right now, he's trolling you.
I wonder if "Technocracy Gray" and "NPC Gray" are the same nuance.
You'll understand if you pay close attention below.
INTRODUCING JOSHUA HALDEMAN, ELON MUSK'S GRANDFATHER WHO WROTE A PAGE OF HISTORY IN CANDA
JOSHUA N HALDEMAN, DC: THE CANADIAN YEARS, 1926-1950
Authors:
Scott Haldeman, University of California, Irvine
Dr. Scott Haldeman is a board certified Neurologist in active clinical practice in Santa Ana, California. He currently is a distinguished Professor at the University of California, the Chairman of the Research Council for the World Federation of Chiropractic and the Founder/President of World Spine Care.
Accomplished in his own right, he also happens to be the uncle of one of the worlds great innovators, Elon Musk. Read how the young Musk spent time on the Haldeman family farm in Saskatchewan. Both Scott's father and his grandmother (Musk's great-grandmother) were chiropractors. In fact, Almeda Haldeman became Canada's first known chiropractor in the early 1900's.

Source Regina Leader-Post
ABSTRACT
Born in 1902 to the earliest chiropractor known to practice in Canada, Joshua Norman Haldeman would develop national and international stature as a political economist, provincial and national professional leader, and sportsman/adventurer.
Read More: ELON MUSK IS THE GRANDSON OF A JEWISH-CANADIAN LEADER OF THE TECHNOCRACY MOVEMENT