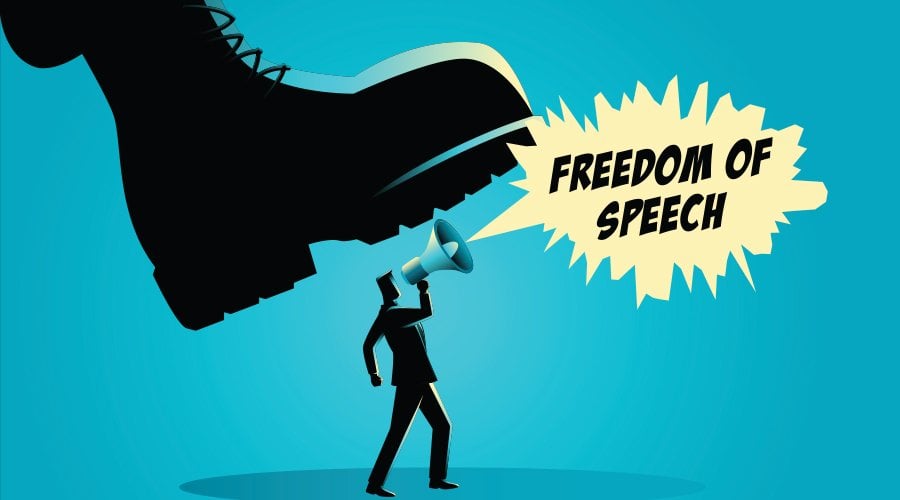 Let's be clear about one thing: seditious conspiracy isn't a real crime to anyone but the U.S. government.
To be convicted of seditious conspiracy, the charge levied against Stewart Rhodes who was sentenced to 18 years in prison for being the driving force behind the January 6 Capitol riots, one doesn't have to engage in violence against the government, vandalize government property, or even trespass on property that the government has declared off-limits to the general public.
To be convicted of seditious conspiracy, one need only foment a revolution.
This is not about whether Rhodes deserves such a hefty sentence.
This is about the long-term ramifications of empowering the government to wage war on individuals whose political ideas and expression challenge the government's power, reveal the government's corruption, expose the government's lies, and encourage the citizenry to push back against the government's many injustices.
This is about criminalizing political expression in thoughts, words and deeds.
This is about how the government has used the events of Jan. 6 in order to justify further power grabs and acquire more authoritarian emergency powers.
This was never about so-called threats to democracy.
In fact, the history of this nation is populated by individuals whose rhetoric was aimed at fomenting civil unrest and revolution.
Indeed, by the government's own definition, America's founders were seditious conspirators based on the heavily charged rhetoric they used to birth the nation.
Thomas Jefferson, Thomas Paine, Marquis De Lafayette, and John Adams would certainly have been charged for suggesting that Americans should not only take up arms but be prepared to protect their liberties and defend themselves against the government should it violate their rights.
"What country can preserve its liberties if their rulers are not warned from time to time that their people preserve the spirit of resistance. Let them take arms," declared Jefferson. He also concluded that "the tree of liberty must be refreshed from time to time with the blood of patriots and tyrants."
"It is the duty of the patriot to protect his country from its government," insisted Paine.
"When the government violates the people's rights," Lafayette warned, "insurrection is, for the people and for each portion of the people, the most sacred of the rights and the most indispensable of duties."
Adams cautioned, "A settled plan to deprive the people of all the benefits, blessings and ends of the contract, to subvert the fundamentals of the constitution, to deprive them of all share in making and executing laws, will justify a revolution."
Had America's founders feared revolutionary words and ideas, there would have been no First Amendment, which protects the right to political expression, even if that expression is anti-government.
No matter what one's political persuasion might be, every American has a First Amendment right to protest government programs or policies with which they might disagree.
The right to disagree with and speak out against the government is the quintessential freedom.
Every individual has a right to speak truth to power—and foment change—using every nonviolent means available.
Unfortunately, the government is increasingly losing its tolerance for anyone whose political views could be perceived as critical or "anti-government."
All of us are in danger.
In recent years, the government has used the phrase "domestic terrorist" interchangeably with "anti-government," "extremist" and "terrorist" to describe anyone who might fall somewhere on a very broad spectrum of viewpoints that could be considered "dangerous."
The ramifications are so far-reaching as to render almost every American with an opinion about the government or who knows someone with an opinion about the government an extremist in word, deed, thought or by association.
You see, the government doesn't care if you or someone you know has a legitimate grievance. It doesn't care if your criticisms are well-founded. And it certainly doesn't care if you have a First Amendment right to speak truth to power.
What the government cares about is whether what you're thinking or speaking or sharing or consuming as information has the potential to challenge its stranglehold on power.
Why else would the FBI, CIA, NSA and other government agencies be investing in corporate surveillance technologies that can mine constitutionally protected speech on social media platforms such as Facebook, Twitter and Instagram?
Why else would the Biden Administration be likening those who share "false or misleading narratives and conspiracy theories, and other forms of mis- dis- and mal-information" to terrorists?
Why else would the government be waging war against those who engage in thought crimes?
Get ready for the next phase of the government's war on thought crimes and truth-tellers.
For years now, the government has used all of the weapons in its vast arsenal—surveillance, threat assessments, fusion centers, pre-crime programs, hate crime laws, militarized police, lockdowns, martial law, etc.—to target potential enemies of the state based on their ideologies, behaviors, affiliations and other characteristics that might be deemed suspicious or dangerous.
For instance, if you believe in and exercise your rights under the Constitution (namely, your right to speak freely, worship freely, associate with like-minded individuals who share your political views, criticize the government, own a weapon, demand a warrant before being questioned or searched, or any other activity viewed as potentially anti-government, racist, bigoted, anarchic or sovereign), you could be at the top of the government's terrorism watch list.
Read More: Conspirators for the Constitution