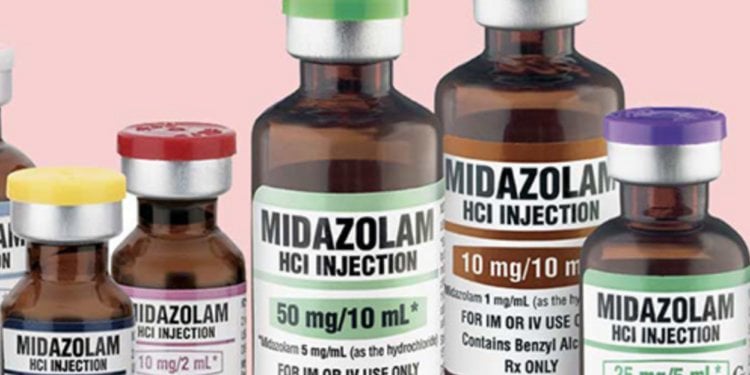 Tens of thousands of people in the U.K. have allegedly been murdered via involuntary euthanasia in hospitals and care homes run by the U.K.'s National Health Service (NHS).1 The process typically involves the administration of midazolam, a sedative drug often used in the U.S. for execution via lethal injection.2 Because it doesn't relieve pain, an opioid such as morphine is usually added in.
The scandal is ousted in "A Good Death? The Midazolam Murders," a documentary film produced by Jacqui Deevoy. She realized something was wrong when a do-not-resuscitate order, or DNR, was put on her dad while he was in a care home.
"So, I spoke to a whistleblower doctor," Deevoy said. "She told me they were being put on people who were over 60 with mental health issues, people with physical disabilities, even on children with autism."3
Continuing a death protocol put in place by the Liverpool Care Pathway, victims' families allege the NHS is responsible for the involuntary euthanasia of up to 457 people per day, without the consent of patients or their caregivers — deaths often attributed to COVID pneumonia.4
Deadly Legacy Stems From Banned Death Protocol
The Liverpool Care Pathway for the Dying Patient (LCP) was a government protocol used in England and Wales to "improve end-of-life care."5 Developed in the 1990s, the protocol was meant to provide best practice guidelines during a patient's final days, and included guidance on symptom control, discontinuation of treatments and psychological, social and spiritual care.6
What occurred instead was a "pathway to euthanasia," during which patients were drugged and deprived of food, water and medical treatments, even in cases when recovery may have been possible. The LCP was abolished in 2014, following public uproar and a government-commissioned review, which criticized its practices. The Guardian reported:7
"The review listened to harrowing stories from families who had not been told their loved one was expected to die and, in some cases, were shouted at by nurses for attempting to give them a drink of water. Nursing staff had wrongly thought, under the LCP guidance, that giving fluids was wrong.
Some patients were put on the pathway and treatment was withdrawn, only for them to make a recovery, albeit temporarily. Communication was very poor and medical staff sometimes dodged painful discussions with patients and families, the review found."
Even after LCP was abolished, however, reports continued from families who said their loved ones were put on the pathway and died as a result.8 Stuart Wilkie lost both of his parents in December 2019, six days apart in two separate care homes.9 He believes they were murdered with involuntary euthanasia. "I have to dispel a little myth. Everybody has said that it [LCP] was abolished and finished. It hasn't stopped."10
It Starts With DNR, Lack of Informed Consent
The stories of the families affected follow a similar pattern, typically beginning with a DNR or do-not-attempt-resuscitation (DNAR) form, which is often recommended simply based on a person's age. "That is absolutely ageism going on here," Wilkie says. "If you're ever asked to do a DNAR, my advice would be never ever sign a DNAR. Right? Because it's misused and abused."11
There's supposed to be shared decision making when it comes to end-of-life care, and informed consent. But, Wilkie notes:12
"The doctors and the nurses have no concept of the word or the phrase 'informed consent.' It's their job to inform the relatives, which they're not doing. And they don't obtain consent themselves. They have to obtain that from the patient or from the patient's relative who has power of attorney. And they're not doing that either. So, what they are doing is involuntary euthanasia that is illegal. And the courts are failing to prosecute."
Once the DNR is in place, however, it often puts the wheels of involuntary euthanasia in motion. He continues:13
Read more: Was It Really a Good Death? Or Murder?