In the first quarter of this year, home foreclosures surged, as reported by property data firm Attom. Following a two-year lull, pandemic-related housing assistance programs are winding down. Homeowners who chose not to make mortgage payments are now either negotiating new terms with lenders, selling their properties, or, as current trends suggest, facing foreclosure. This troubling rise coincides with consumers falling behind on their credit card payments.
While still below pre-pandemic levels, foreclosure filings during the first quarter of 2023 totaled 95,712 properties, up 6% from the previous quarter and 22% from a year ago. This was the 23rd consecutive month with a year-over-year increase in foreclosure activity.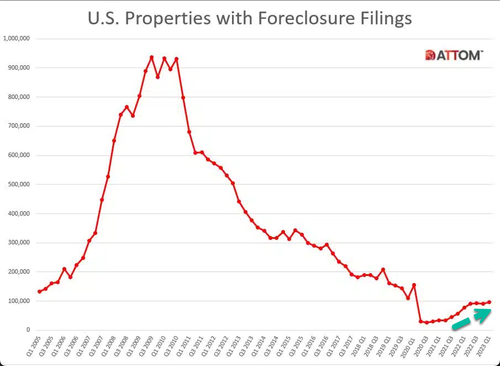 "Despite efforts made by government agencies and policymakers to try and reduce foreclosure rates, we are seeing an upward trend in foreclosure activity," Rob Barber, CEO at ATTOM, said in a statement. He continued:
"This unfortunate trend can be attributed to a variety of factors, such as rising unemployment rates, foreclosure filings making their way through the pipeline after two years of government intervention, and other ongoing economic challenges. However, with many homeowners still having significant home equity, that may help in keeping increased levels of foreclosure activity at bay."
Much of Attom's data was recorded before Silicon Valley Bank's demise. A credit crunch followed and sparked further busting of the tech bubble that added capital destruction in private equity and venture capital firms. Now real-estate investments, primarily commercial real estate, are being significantly reevaluated as more financial stress is boiling up.
Making matters worse is 24 months of negative real-wage growth for consumers who've maxed out credit cards and drained personal savings. Lower-tier consumers are coming under pressure as big banks are beginning to notice a startling uptrend in credit-card and loan-payment delinquencies.
"We've seen some consumer financial health trends gradually weakening from a year ago," Wells Fargo Chief Financial Officer Mike Santomassimo said on an earnings call last Friday.
Read More:Home Foreclosures And Missed Credit Card Payments Surge