National security concerns over Joe Biden's classified document scandal just got worse, as two reports have emerged which place Hunter Biden at the Bidens' Wilmington, Delaware residence while he was raking in millions of dollars from CCP-linked business dealings.
First, Seamus Bruner (researcher for legendary bombshell-dropper Peter Schweizer), reports via Breitbart News, that "While addicted to drugs, cavorting with prostitutes, and making deals with businessmen tied to the highest levels of Chinese intelligence, Hunter Biden lived in the house where Joe Biden stored classified documents."
While filling out a background check, Hunter made a crackhead error and listed his 'rent' as $49,910 – when in fact that's the amount of the security deposit and 6 months of rent for prime office space at the prestigious House of Sweden in Washington DC. What's most interesting, however, is that the dates Hunter listed as living at the Wilmington, DE residence – as claimed on other documents and financial statements – overlap with the period in which multiple Biden family members were taking money from foreign businessmen with connections at the highest levels of Chinese state intelligence services through energy company CEFC. As Bruner further notes, CNN described CEFC as a state-directed entity in 2018.
CEFC, and at least four of its executives and associates – Ye Jianming, Patrick Ho, Gongwen Dong and Jiaqi Bao, have been linked to the CCP and its military intelligence apparatus. In one case, Hunter described Patrick Ho as "the fucking spy chief of China."
By early 2017, Hunter was directly corresponding with CEFC personnel and flew to Miami in February of that year to meet with CEFC Chairman Ye Jianming. During this trip, Ye Jianming gave Hunter a 3.16 carat diamond valued at approximately $80,000..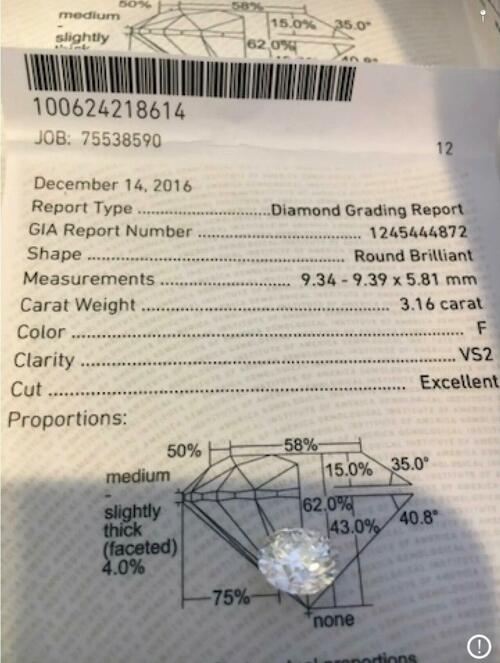 When Hunter's ex-wife discovered that he had obtained something of such immense value, she had her divorce attorney send an "Urgent" email seeking to determine the whereabouts of the diamond and secure the asset before Hunter could "dissipate" it. Hunter's attorney offered a shady denial:
"There is no diamond in Hunter's possession. I don't know where Kathleen is getting access to this information, but on this score, what your email purports below is inaccurate."
Metadata gleaned from photos of the diamond on the abandoned laptop indicate that Hunter lied about not having the diamond and he in fact had the diamond with him in Wilmington. The current location of the 3.16 carat diamond remains unknown
After the fateful February 2017 meeting with Ye, and around the time Hunter claimed to have moved into the Wilmington house where classified documents were found, the Bidens' business with CEFC exploded.
Nine days after Miami meeting, Hunter received two separate wire transfers of $3 million which the Department of Treasury's Financial Crimes Enforcement Network flagged as suspicious.
Read More: Hunter Biden Lived In Classified Doc House