NHS England guidance promoting universal masking in healthcare settings was quietly dropped on June 1st as part of the government's 'Living with Covid' plans. So how is it that some hospitals and clinics seem to be making their own policies, with some mask-free and others aggressively insisting on masking both staff and public?
The reason is that the new guidance made masking policies a matter for local discretion. As a result, national COVID-19 guidance can be trumped by so-called 'local COVID-19 prevalence'. But how consistent are local responses? By what set of rules are decisions to reintroduce masks made? And, most importantly, who is responsible for determining the rules and making decisions?
Early in October, mainstream news outlets were reporting on the 'return of the mask'. Between the Mail and the Sun's accounts, eight different NHS Trusts were reintroducing a range of Non Pharmaceutical Interventions (NPIs), prominent among which were mask mandates for patients and visitors.
In all cases, these measures were apparently being introduced as a result of 'Covid's resurgence' with "surveillance data suggesting Covid is on the rise in England".
Just a month on from these heavily publicised reintroductions of mask 'requirements', the picture had changed somewhat. Table 1 shows the current status of mask requirements for the public. In some cases, the trusts who saw the need for restrictions have relaxed them, but they remain in full force for others.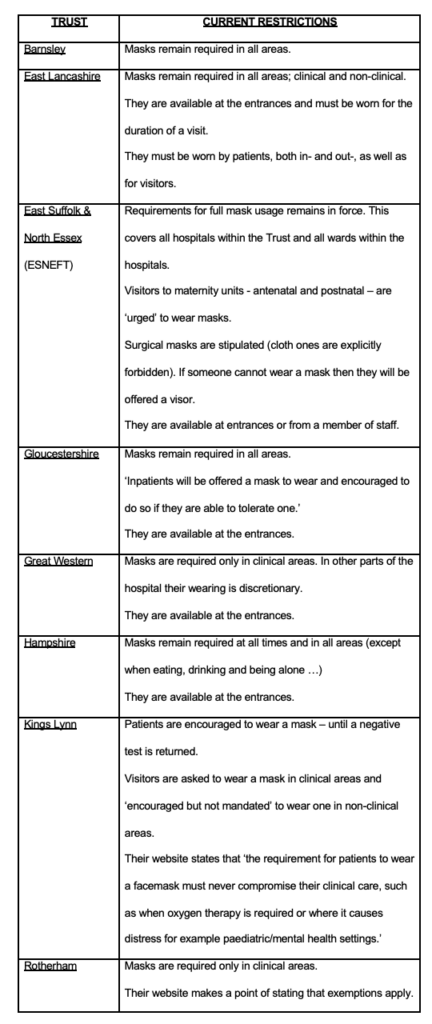 It is clear from the hotchpotch above that not all NHS Trusts are acting the same. Perhaps 'local prevalence' of COVID-19 can explain why we are seeing these differences? To test this hypothesis we can look at the infection 'case' rates in each of the domains covered by the Trusts, as documented in Table 2.
We should expect those Trusts imposing mask mandates to be in areas of above-average Covid prevalence. But, certainly at a high level, this appears not to be the case. Instead, there is no discernible pattern and, in fact, some discrepancies. For example, Barnsley, with continuing significant restrictions, has a catchment area with the lowest daily new cases per 100,000 people; while Swindon and its surrounding areas in Wiltshire, served by the Great Western Trust that has reduced its mask restrictions, has the highest rate!
Read More: Why Are Some Hospitals and Clinics Mask Free