Less than a week after taking the reigns at Twitter, self-described "free speech absolutist" Elon Musk talked with multiple representatives from the Anti-Defamation League (ADL) and other groups that have pushed for increased online censorship to discuss "how Twitter will continue to combat hate & harassment & enforce its election integrity policies."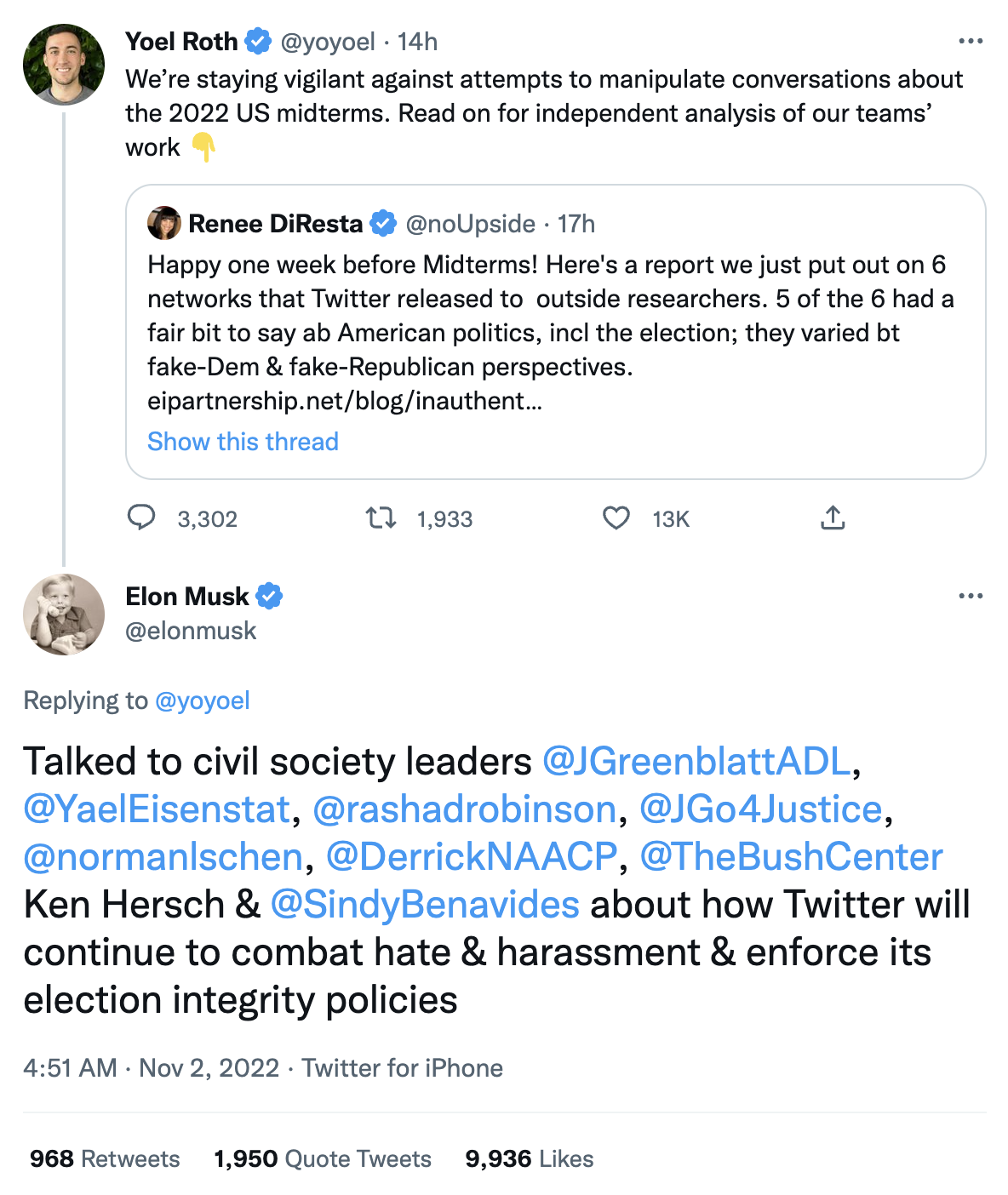 Musk talked to ADL CEO Jonathan Greenblatt and ADL Vice President Yael Eisenstat. He also talked to representatives from other groups that have pushed for online censorship including Colors Of Change President Rashad Robinson, Free Press Co-CEO and Change The Terms Co-Founder Jessica González, The Asian American Foundation CEO Norman Chen, the National Association for the Advancement of Colored People (NAACP) President & CEO Derrick Johnson, George W. Bush Presidential Center CEO Ken Hersh, and League of United Latin American Citizens (LULAC) CEO Sindy Benavides.
The ADL describes itself as an anti-hate organization and is infamous to free speech supporters for pressuring platforms such as Facebook, YouTube, and PayPal to introduce stricter censorship rules.
Colors Of Change and the NAACP previously worked with the ADL as part of a "Stop Hate For Profit" Facebook ad boycott which ultimately resulted in the tech giant bowing to the pressure and censoring more "hate speech." Even after capitulating, the ADL insisted that Facebook's censorship changes were "not enough."
Free Press recently published a report that complained Big Tech's existing censorship rules are "weak" and demanded that these companies do more to censor "hate and lies."
Change The Terms is a Southern Poverty Law Center (SPLC) backed coalition. According to the SPLC, YouTube introduced its controversial hate speech rules in response to Change The Terms. Change The Terms has also branded Signal and Telegram's end-to-end encryption as "dangerous" because it prevents other groups from being able to police users' speech.
Read More: Elon Musk consults with ADL and other pressure groups on combatting "hate"