Civic participation is seen as an important component in fulfilling the UN agenda. Citizens must be made more involved. It all sounds wonderful. But when looking closer, it seems to be mostly about legitimising UNs own agenda and fostering more obedient citizens. The UN only listens to the citizens and groups that say what they want to hear. Criticism and opinions that do not support the UN climate action, migration policy, or health mandates are generally disregarded, dismissed, ridiculed, and thrown in the bin.
The eighth commitment involves the appointment of a High-Level Advisory Board on Effective Multilaterism , chaired by former heads of state and government, and is focused on improved governance of "our global commons". It also includes the re-establishment of the Secretary-General's Scientific Council and the UN taking part in more listening, participation, and consultation (including digitally) from the public. Secretary-General António Guterres calls for a "Quintet of Change" for an upgraded UN 2.0: Innovation, Data, Strategic foresight, Results orientation, and Behavioural science.
According to Guterres, the United Nations needs to be adapted for the digital era. The High-Level Advisory Board – which I described in the introductory post Multilateralism with teeth – will develop proposals for the following:
Improving the governance of global public goods and other areas
Anticipate how sustainable development and climate measures will be handled after 2030
Peace and security, for the new peace agenda
Digital technology, for the Global Digital Compact
Outer space, seek consensus on the sustainable and peaceful use of outer space, move towards a global regime to coordinate space traffic and agree on principles for the future governance of outer space
Global major risks and agreement on a Global Emergency Platform
Subsequent generations, for possible agreement on a declaration of future generations.
The United Nations intends to upgrade the global governance of the world. This includes "listening" to the citizens.
To make the United Nations more effective, we will develop new capabilities that promote agility, integration and cohesion across the system. This will be part of a wider transformation towards a United Nations "2.0", a new version that is able to offer relevant and system-wide solutions to the challenges of the twenty-first century.
The basis for everything is data. According to the Secretary-General's data strategy, UN Secretary-General's Data Strategy 2020-22, this should permeate everything and lead us through the Great Transformation. This data strategy means the upgrading and digitisation of the United Nations. It outlines how to use all the data that is collected (Big Data, sensors/IoT, sound, image, text, etc.).[1] The global sustainable development goals (SDGs) of Agenda 2030 are to be reached with the help of digital technology. This includes areas such as climate change, gender equality, human rights, peace and security, governance as well as future ethics, data protection, and privacy.
Making better use of data – with approaches grounded in UN values and human rights – is integral to our future and service. Recognizing that we have not fully unlocked our data and analytics potential, this Strategy will guide us through a long-term transformation: So that everyone, everywhere nurtures data as a strategic asset for insight, impact and integrity – to better deliver on our mandates for people & planet.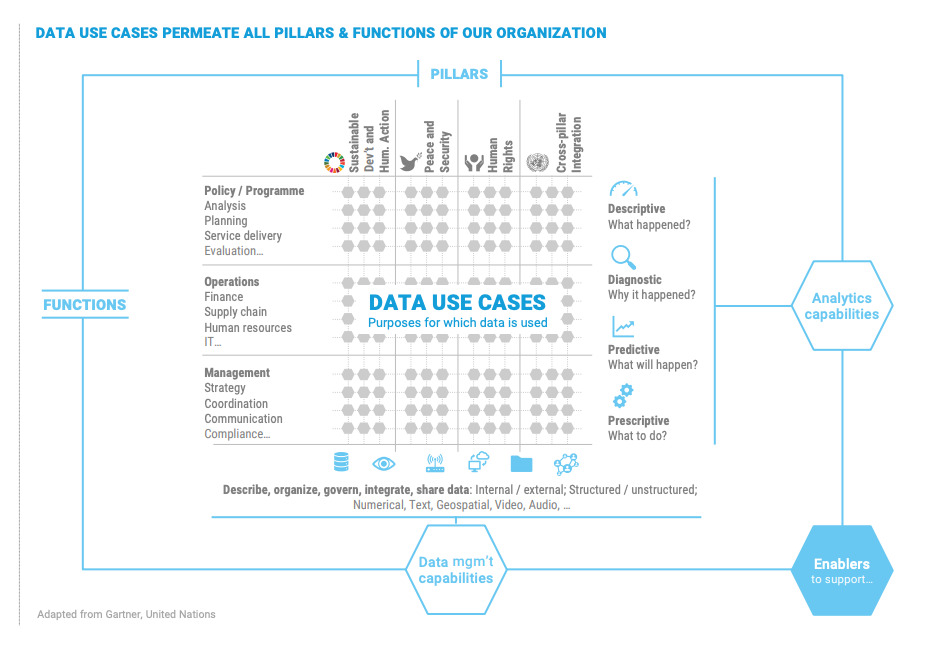 Read More: United Nations 2.0: A Whole-Of-World Technocracy