Trucking demand is "near freight recession levels," according to Bank of America. Shippers' outlook on rates, capacity and inventory levels are matching attitudes not seen since May and June 2020, when pandemic lockdowns sent freight volumes into a historic decline.
As FreightWaves reports, in a Friday note to investors, Ken Hoexter (available to Zero Hedge professional subscribers), the managing director of Bank of America's trucking research, wrote that shippers' view of demand is down 23% year-over-year. The proprietary Truckload Demand Indicator hit 58 — the lowest since June 2020.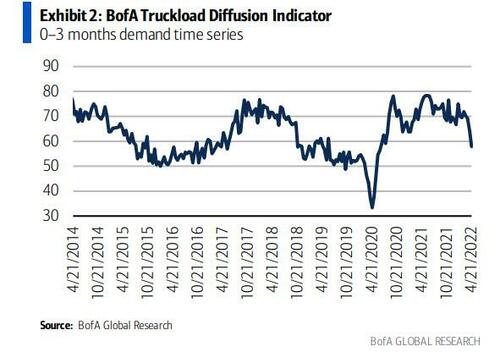 Hoexter said the shippers' view of rates have "melt(ed) down," hitting a low not seen since May 2020. Bank of America's survey represented views from 44 shippers in industries including retail, consumer goods and manufacturing.
Meanwhile, these shippers are finding it easy to find capacity to move their loads; outlook on capacity hit its highest level since June 2020. They also noted their view on inventory levels had climbed to its highest point since May 2020.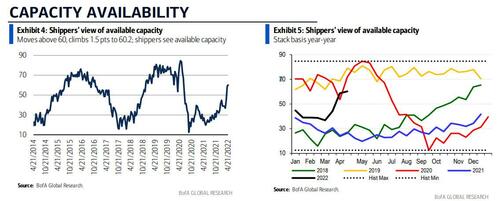 A few anecdotal examples from the Bank of America survey illustrate that data. One food shipper said it was receiving more cold calls from freight brokers rather than those brokers having to seek capacity for shipments on their own. A shipper moving home-building products said flatbed capacity is loosening slightly, though is still tight. And a representative of a forest products company said rates were beginning to soften as truck capacity opened up.
Other indicators are pointing to freight recession, FreightWaves has previously reported that a "sharp, painful downturn" in the U.S. trucking market is coming. The Friday note to investors is the latest indicator of the trucking bloodbath that many in the industry are spotting.
"The way the rates are, you have to run twice as hard to make ends meet," Dan Guzman, a San Antonio-based fleet owner, recently told FreightWaves.
Read More : "Meltdown": Bank Of America