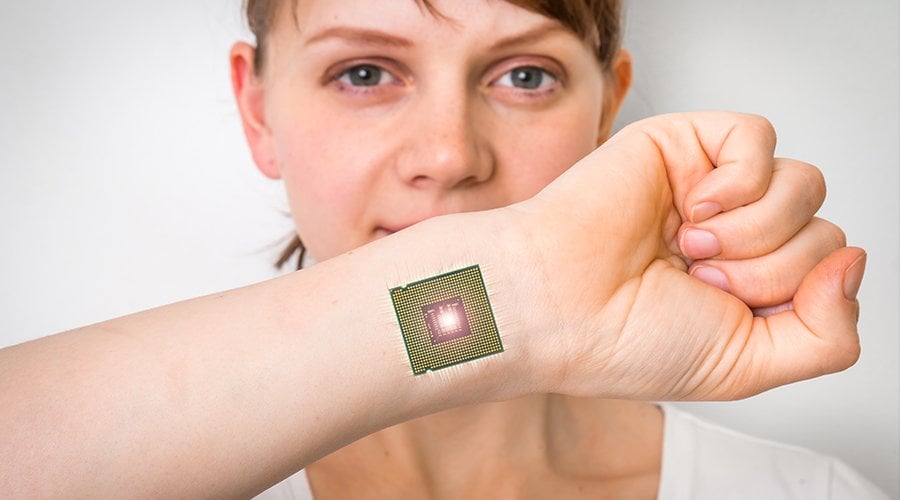 > Implantable microchips are marketed as the ultimate in convenience, but the goal is to create the Internet of Bodies (IoB), described by the World Economic Forum (WEF) as an ecosystem of "an unprecedented number of sensors," including emotional sensors, "attached to, implanted within, or ingested into human bodies to monitor, analyze and even modify human bodies and behavior"
> Sweden is one of the earliest adopters of implantable microchips. The chip is implanted just beneath the skin on the hand, and operates using either near-field communication (NFC) — the same technology used in smartphones — or radio-frequency identification (RFID), which is used in contactless credit cards
> Implanted payment chips are an extension of the internet of things; they're a way of connecting and exchanging data, and the benefits must be weighed against the potential risks
> Countries around the world are now working on a system for a central bank digital currency (CBDC), a fiat currency in digital form that is programmable so that you can only spend your money on certain things or in specific places, as desired by the issuer
> In the end, everything will be connected to a single implantable device that will hold your digital identity, health data and programmable CBDCs. Your digital identity, in turn, will include everything that can be known about you through surveillance via implanted biosensors, your computer, smartphone, GPS, social media, online searches, purchases and spending habits. Algorithms will then decide what you can and cannot do based on who you are
While implantable microchips are marketed as the ultimate in convenience, the goal of this trend goes far beyond allowing you to open doors without keys and buy things without your wallet.
The goal is to create what's known as the Internet of Bodies (IoB), described by the World Economic Forum (WEF) as an ecosystem of "an unprecedented number of sensors," including emotional sensors, "attached to, implanted within, or ingested into human bodies to monitor, analyze and even modify human bodies and behavior."1
Key words in that sentence that the PR machine skips right over is the stated goal to "modify human bodies and behavior." And who will be in charge of those modifications? They don't say, but we can safely assume that it will be those who have something to gain from the modification of your actions and behaviors.
Sweden Paves the Way for Microchipping
As noted in the featured NBC News segment, Sweden is one of the earliest adopters of implantable microchips. The chip, about the size of a grain of rice, is implanted just beneath the skin on the hand, and operates using either near-field communication (NFC) — the same technology used in smartphones — or radio-frequency identification (RFID), which is used in contactless credit cards.
Already, Sweden has become more or less a cashless society. Now, this tiny implant will replace the need for debit and credit cards all together, as well as identification and keys. To pay for an item, all you have to do is place your left hand near the contactless card reader, and the payment is registered.
An estimated 5,000 to 10,000 Swedes have been chipped so far, although Swedish authorities claim they don't know the exact number, as there's no central registry.
At present, it's claimed that the chips cannot be tracked, but that doesn't mean they'll remain untrackable in the future. And, while these early microchips contain only limited amounts of information, we know the WEF dreams of implementing a global digital identification system that would include everything imaginable about you, from your online search history and medical information to your personal banking data, social credit score and more.
Humans Are Becoming Hackable
As noted by financial technology expert Theodora Lau, implanted payment chips are "an extension of the internet of things;" they're a way of connecting and exchanging data, and the benefits must be weighed against the potential risks.2
This is particularly true if and when more personal information begins to be migrated into them, leaving you vulnerable to hackers and surveillance. She told BBC News:3
"How much are we willing to pay, for the sake of convenience? Where do we draw the line when it comes to privacy and security? Who will be protecting the critical infrastructure, and the humans that are part of it?"
A PBS NewsHour segment from 20194 also reviews some of the concerns surrounding implantable microchips (see video above). Importantly, just about any smartphone can read the chip with the proper scanner installed, and "anybody would be able to hack it," according to Dr. Geoff Watson, a consultant anesthetist5 who has teamed up with the chip's inventor "to ensure the implant procedure is carried out to a medical standard."
While many say they have no privacy fears around the current microchips, it's reasonable to suspect that privacy concerns will rise in tandem with the amount of personal information held on the chips, and with the number of people who have the implants.
Credit card theft was rare in the beginning and typically involved physical loss of the card. Today, you can't seem to keep a credit card for more than a handful of years before it's somehow stolen even though the card is still in your possession.
Identity theft is also rampant, and getting worse by the day, as millions of illegals in need of new identities flood across the southern border of the United States.
As noted by the Center for Immigration Studies, illegal immigrants are not "undocumented," as most will obtain fraudulent documents through identity theft.6 In other words, they're stealing the legal identities of Americans. In 2020, the total cost for identity theft and identity fraud was $56 billion — the highest in recorded history — and affected 39 million Americans.7
There's no reason to believe theft and fraud won't happen as microchipping becomes more commonplace. And that risk is in addition to the risks involved with government spying on and controlling both your behavior and spending once the microchips are connected to your personal finances and programmable digital currencies.
In a November 2019 interview with CNN,8 history professor and adviser to WEF founder Klaus Schwab, Yuval Noah Harari, warned that "humans are now hackable animals," meaning, the technology exists by which a company or government can know you better than you know yourself, and that can be very dangerous if misused.
He predicted that algorithms will increasingly be used to make decisions that historically have been made by humans, either yourself or someone else, including whether or not you'll be hired for a particular job, whether you'll be granted a loan, what scholastic curriculum you will follow and even who you will marry.
Read More : Internet Of Bodies Means Total Control