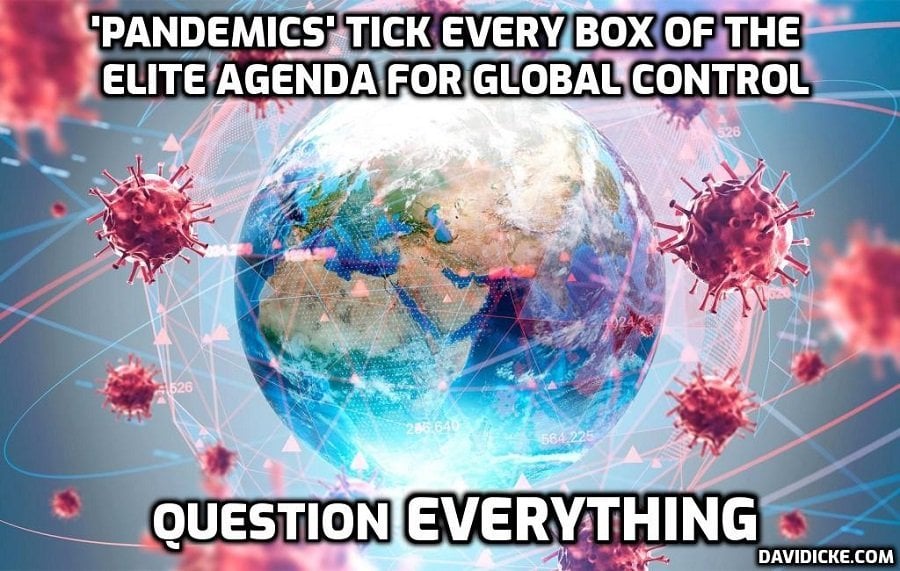 This book is a brilliant and comprehensive analysis of the Covid-19 crisis and the worldwide states of siege instituted under its cover.  Reading it, one cannot help but shake one's head in outrage at the long-planned nature of the wealthy global elite's seizure of power under the guise of a germ emergency and the revolutionary crisis it has created.
I say this not only because I am predisposed to the author's thesis, but because he buttresses his argument with overwhelming documentation that is meticulously sourced and noted.  This is a work of genuine scholarship of the highest order, and to read it closely and with an open mind one can't help but be convinced of its essential truth.
Kees van der Pijl, the author of The Making of an Atlantic Ruling Class and the winner of the 2008 Deutscher Prize for Nomads, Empires, States: Modes of Foreign Relations and Political Economy, introduces his study with these words:
The psychological shock of the proclamation of a pandemic, like the purpose behind torture, is intended to induce acceptance of a 'new normal' and to turn off critical judgment. This state of mind is achieved by withholding information about what is really going on, through the extremely one-sided information by politicians and mainstream media. Divergent views by often highly qualified experts are not mentioned or are dismissed as 'conspiracy theories.' This can be compared to the sensory deprivation in psychological torture. . . .We are dealing with a biopolitical  seizure of power, initiated at the level of global governance and reaching deep into the sovereignty of the individual, a seizure that involves a  whole range of forms of violence. [my emphasis]
The reason van der Pijl's analysis is so powerful is because he clearly sees the historical context for the Covid crisis, how it is linked to issues of geo/economic-politics going back thirty-five years or more, culminating in the 2008 economic crash that ended years of capitalist speculation.  Then when President Barack Obama, serving as the front man for the big speculators, banks, and shadow banks, bailed out those entities and created a new financial order, popular revolts, such as those which were brewing on the eve of the New Deal in the 1930s, broke out around the world in the ensuing years and had to be subdued.  "Strikes, riots, and antigovernment demonstrations have broken existing records in every category during this period [since 2008]."
The elites knew that such revolts of an uncontrollable world population had to be kept under control, and that the growing numbers approaching 8 billion people had also to be culled. But van der Pijl's subtitle, while intimating both with its double-entre, leads him to focus on the former that he deems "much more important." While popular unrest and rage have been more or less suppressed since 2020 with the Covid crisis effectively used to put down its latest signs of eruption and to replace it with a permanent sense of anxiety, fear and trembling was first introduced on a massive scale with the attacks of September 11, 2001, the connected insider anthrax attacks, the Patriot Act, and emergency propaganda measures used to fuel the war on terror that has no end.  This terrorizing of the world has taken multiple forms with an ongoing series of U.S. wars on other countries – Yugoslavia, Afghanistan, Iraq, Libya, Syria, etc., not to mention the proxy wars – supported by massive digital propaganda meant to take populations hostage to the lies.
Van der Pijl cogently shows how the Covid crisis fear campaign's official account is untrue; how it is a political and not a medical emergency; and that it will collapse, as it has, at least temporarily, but how its deeper purpose is to create a  permanent authoritarian, surveillance social order controlled by transnational elites through global digital IDs, etc. This "new normal" relies on the corporate mass media to do the dissemination of the propaganda of fear and lies, and so he correctly emphasizes the central importance of the IT revolution and the single complex triangle of intelligence services-IT-media, which are in essence one entity.  The information warfare of mind control of the ruling class is fundamental, as he writes.
Read More – "States of Emergency: Keeping the Global Populations in Check" A book review.