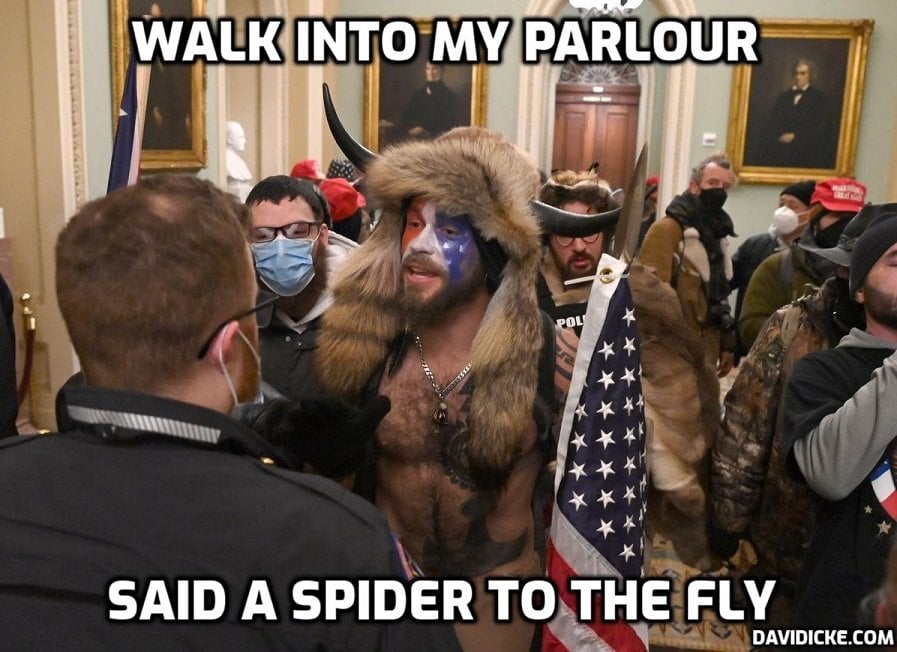 Peaceful Jan 6 Capitol protester Paul Allard Hodgkins was maliciously overcharged by the feds with "obstructing an official proceeding of Congress" and faced 20 years in prison for the crime of taking a selfie on the Senate floor with others as they "cheered and said prayers."
Hodgkins only spent 15 minutes inside "the People's House" but after being threatened with two decades in prison he accepted a plea deal on Wednesday leaving him facing some "15 to 21 months [in prison] under federal guidelines."
From The Washington Post, "Tampa man pleads guilty to felony in Jan. 6 Capitol riot; his recommended prison sentence could set bar for other cases": A Tampa man who carried a Trump flag into the well of the Senate on Jan. 6 pleaded guilty Wednesday to one felony count of storming the Capitol to obstruct Congress's certification of the 2020 presidential election.
Paul Allard Hodgkins, 38, did not enter a cooperation deal with prosecutors, and he is not accused of any other wrongdoing or involvement with extremist groups.
In admitting to the stiffest felony count charged by prosecutors against individuals not otherwise accused of conspiracy or violence in the Capitol riot, Hodgkins faces a prison sentence of 15 to 21 months under federal guidelines. His sentencing is poised to become a test case watched by other defendants deciding whether to accept pleas, several defense lawyers said.
"I have decided that I will accept this plea offer, and I will plead guilty to charge one," Hodgkins told U.S. District Judge Randolph D. Moss.
Read More: Peaceful Capitol Protester Threatened With 20 Yrs In Prison