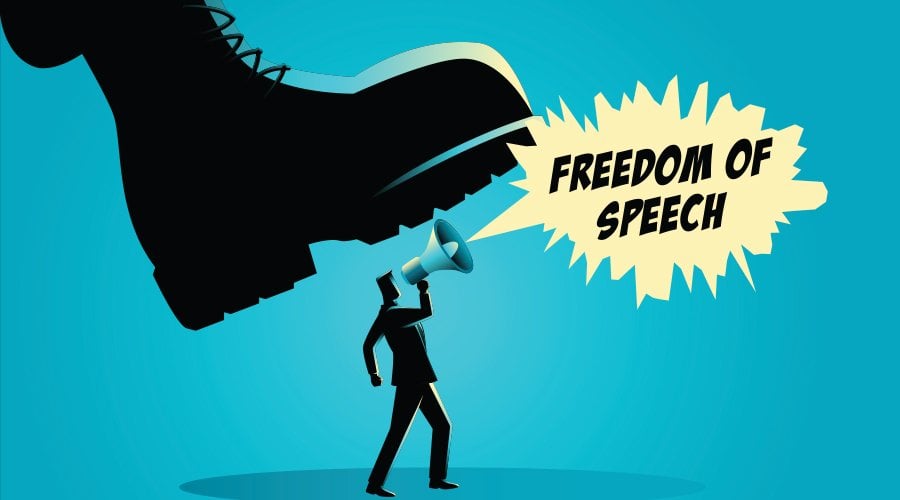 One of the hallmarks of totalitarian systems is the criminalization of dissent. Not just the stigmatization of dissent or the demonization of dissent, but the formal criminalization of dissent, and any other type of opposition to the official ideology of the totalitarian system. Global capitalism has been inching its way toward this step for quite some time, and now, apparently, it is ready to take it.
Germany has been leading the way. For over a year, anyone questioning or protesting the "Covid emergency measures" or the official Covid-19 narrative has been demonized by the government and the media, and, sadly, but not completely unexpectedly, the majority of the German public. And now such dissent is officially "extremism."
Yes, that's right, in "New Normal" Germany, if you dissent from the official state ideology, you are now officially a dangerous "extremist." The German Intelligence agency (the "BfV") has even invented a new category of "extremists" in order to allow themselves to legally monitor anyone suspected of being "anti-democratic and/or delegitimizing the state in a way that endangers security," like … you know, non-violently protesting, or speaking out against, or criticizing, or satirizing, the so-called "New Normal."
Naturally, I'm a little worried, as I have engaged in most of these "extremist" activities. My thoughtcrimes are just sitting there on the Internet waiting to be scrutinized by the BfV. They're probably Google-translating this column right now, compiling a list of all the people reading it, and their Facebook friends and Twitter followers, and professional associates, and family members, and anyone any of the aforementioned people have potentially met with, or casually mentioned, who might have engaged in similar thoughtcrimes.
You probably think I'm joking, don't you? I'm not joking. Not even slightly. The Federal Office for Protection of the Constitution ("Bundesamt für Verfassungsschutz") is actively monitoring anyone questioning or challenging the official "New Normal" ideology … the "Covid Deniers," the "conspiracy theorists," the "anti-vaxxers," the dreaded "Querdenkers" (i.e., people who "think outside the box"), and anyone else they feel like monitoring who has refused to join the Covidian Cult. We're now official enemies of the state, no different than any other "terrorists" … or, OK, technically, a little different.
As The New York Times reported last week (German Intelligence Puts Coronavirus Deniers Under Surveillance), "the danger from coronavirus deniers and conspiracy theorists does not fit the mold posed by the usual politically driven groups, including those on the far left and right, or by Islamic extremists." Still, according to the German Interior Ministry, we diabolical "Covid deniers," "conspiracy theorists," and "anti-vaxxers" have "targeted the state itself, its leaders, businesses, the press, and globalism," and have "attacked police officers" and "defied civil authorities."