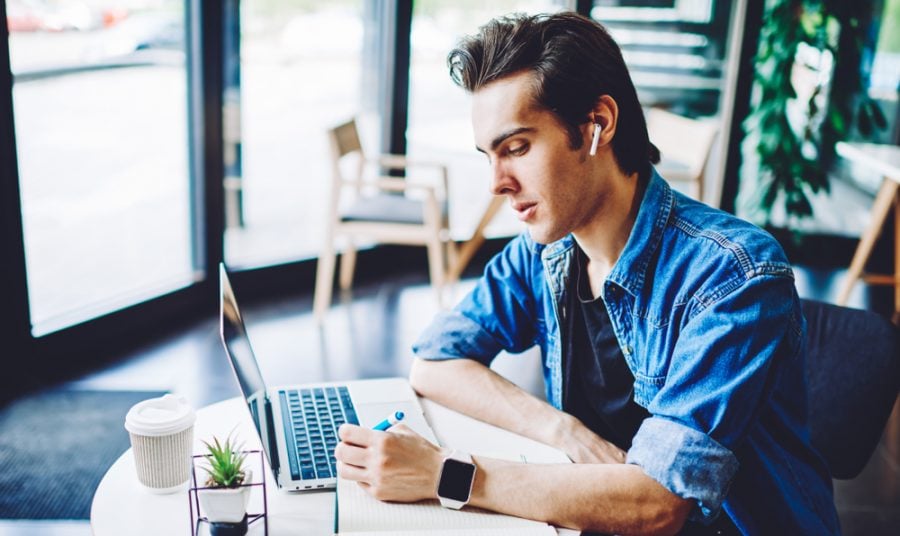 Preparing for writing your thesis might seem even more dreadful than the process of crafting the paper itself. And even though you know that you have more time to write it as compared to a regular essay, there's still some kind of angst.
At this stage, it's common for students to escape reality and start procrastinating. One of the reasons is that the pressure of the assignment might feel unbearable. Especially if you're a perfectionist who wants to create a masterpiece instead of just getting it over with.
In this article, you'll learn about five steps in preparing for writing your thesis. These steps aren't easy-breezy and it might take some time to prepare properly. Yet, if you follow them, you'll find that the writing process itself is as easy-breezy as it could possibly be in this situation.
Choose a Topic
This step is critical in the process of your preparation. If by the time you need to start writing you have already found the topic that sparks your interest, this is great news.
Yet, you still have to make sure that your topic is relevant, specific, and thought-provoking. That is, there's something under-researched and it makes you want to investigate this issue.
In case you haven't found the topic you'd like to write about yet, don't panic. Think about the subjects that you've been taught as well as group projects that you've been working on. It might also be a good idea to have a look at your notes.
Also, if you have previously used an essay service to help with your assignment, you might want to go through these papers to find inspiration. The most important thing when choosing a topic for your thesis is to take a "What's in it for me?" approach. Try to find something that interests you personally or that can help you in your future job search.
Organize Your Literature Review
Reading and writing go hand in hand when it comes to producing a thesis. That is, you have to prepare not only for writing your paper but also for reading tons of books and journal articles.
Sometimes, this step can precede the one when you choose a topic. This is because you might need to read quite a bit before realizing what topic you'd like to write about.
You can organize your literature review with the help of special software such as Zotero or Mendeley. Or you can use Google Sheets or Excel to create your own table. This table might take some time to arrange, but it will prove its value as soon as you start writing.
In the table, you can add columns such as "Reference info", "Main question/theme/idea", "Theory", "Method", "Results" and "Keywords". Fill in the relevant information while you read articles and books.
Later you'll be able to search within this document for specific references or ideas that you'd like to mention in your thesis.
source: https://unsplash.com/photos/Nwkh-n6l25w
Construct a Research Question
You should construct a well-thought-out research question. There are three important aspects of any good research question. First, it has to be doable. You can't just ask something that you won't be able to find an answer for given the time you have and the empirical material that you have to collect.
Second, it has to be relevant to your field of study. This is why you should look through your notes, essays, and projects to find some inspiration. Also, make sure that you're not exceeding the limits of what you've been learning.
Third, your research question has to be original. This part might prove tough. At the very beginning of your preparation, you might feel like everything has already been said or written about everything.
Of course, this is not true. And it's your task to find a gap or an under-researched problem that you could contribute to with your thesis.
Think About Theoretical Framework
Keep in mind that you have to use one or several theories in your thesis. These theories will serve as a theoretical framework for your study. At this point, you need to find relevant to your topic theories that you could present in an interesting way.
For example, this can be done with the help of storytelling when you'll actually get down to writing. You can try to describe the key concepts of the chosen theoretical perspectives in a concise but coherent way that makes sense for a reader.
Later in the process, you'll have to test the developed theoretical framework against the empirical material. This is why you have to choose your theories carefully. As you'll use their concepts when structuring as well as analyzing the collected data.
Think About Methodology
Before you actually start writing your thesis, you might want to decide which method you're going to use in your research. For example, you can use either quantitative or qualitative methods.
Also, if you're into social sciences, you can use the method of triangulation in your research. That is, combine three different methods when analyzing the empirical material.
The reason why it's a good idea to decide upon your methodology beforehand is that the formulation of your research question depends on it. This means that, in your research question, you can't ask, "How X influences Y..?" and then use one of the qualitative methods to answer this question.
Also, your thesis will only benefit if you choose those methods that you feel most comfortable with. For example, if you prefer conducting interviews over using SPSS, you should opt for qualitative methods. Don't struggle with quantitative methods just for the sake of it.
source: https://unsplash.com/photos/Z3ownETsdNQ
Wrapping Up
Writing a thesis is an overwhelming assignment for many students. Even preparing for writing might seem like a challenge. Yet, as you might already know, a good beginning is half the battle. This is why it's so important that you approach the process of preparation with all due care.
First, try to beat procrastination as well as perfectionism. Then, start looking through the topics that make you feel curious and choose a specific one.
Next, start reading as much as possible on this topic and organize your literature review so that you can easily search within it and make references. Try to come up with a doable, relevant, and original research question.
Finally, think about useful theories and appropriate research methods. Your paper has to be solid and convince a reader of your competence in the subject matter.