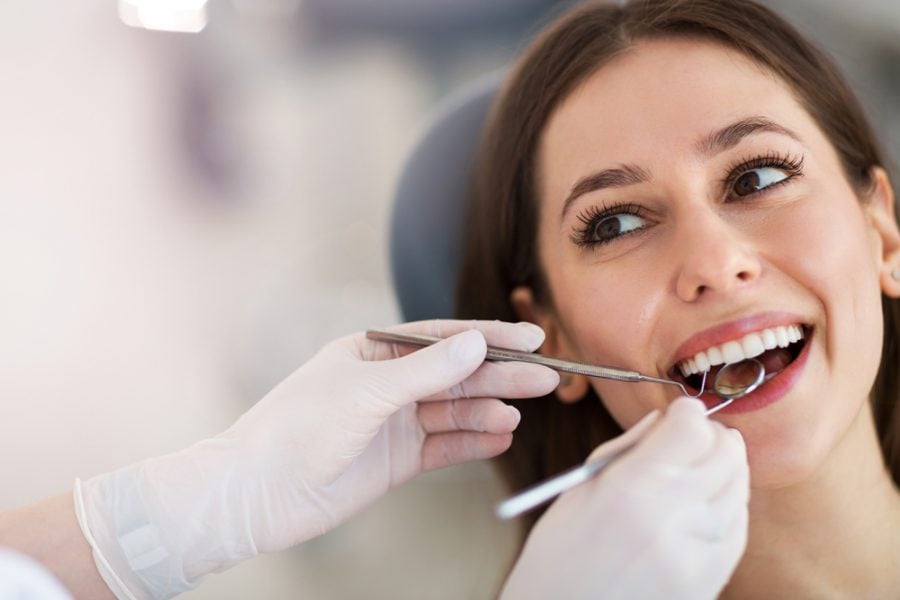 People seek cosmetic dentistry for different reasons, it could be life changing dental work or it could be purely esthetics.
The celebrity perfect look is fueling the popularity of the cosmetic dentistry industry with favorite treatments including teeth whitening or turning a crooked smile into the perfect grin.
With more and more people turning to cosmetic dentistry and an industry that is worth more than 9billion dollars in North America, there are always charlatans waiting in the wings ready to cover charge or scam people out of money for poor services.
The last thing anyone wants, particularly the industry, is under qualified money makers playing with people's health and looks, so it is important to do your research when you are trying to find a quality cosmetic dentistry service.
Cosmetic dentistry can be anything from teeth whitening or tooth removal to implants or what is call snap on smiles. It basically encompasses improvement in the color, position, shape, size and alignment of a person's teeth and their smile.
When looking for a reputable cosmetic dentistry service, here are some top tips to follow…
Training – first and foremost you need to be looking at the qualification and experience of the dentist and the team of staff working in the clinic. A qualified cosmetic dentist will have a postgraduate qualification in porcelain veneers and other procedures, like teeth whitening and Invisalign. Make sure you ask about the qualification for the dentist you are looking at to carry out your treatment.
Location – do they have a genuine address and it is close to where you live. Don't spend extra money travelling to another city when there is likely to be someone qualified close by. And if they are close by, you can pop in visit easily.
Payment options – cosmetic dentistry can be expensive, even for the smallest of procedures. You will need to check if they accept credit cards or give special payment options to spread the cost if price is an issue for you.
Costs – do some research on costs. Make sure you are not being overcharged by getting quotes from two or three reputable companies. If you are opting for the cheapest dentist, then make sure they tick all of the other points on the checklist here and they arer going to give you a top quality service and result.
Office hours – does the dentist you are looking at offer after hours services so it can fit in with your work schedule?
Testimonials – most dentists will have before and after photographs of their patients. They are also likely to have written testimonials for you to read. There is nothing better than looking at the proof of the work a dentist has carried out to give you confidence you are using the right person. And don't be shy to ask if you can speak directly to a patient who has received the same treatment as the one you are looking at.
The Clinic – do you like the feel of the clinic and are the staff friendly when you visit? It would be worth a visit before you make the decision of who to use. Your experience in the clinic will be a key part of your treatment, particularly if you have to make multiple visits.
Timings – get a detailed plan of your proposed treatment so you can be sure you can fit it in with your own schedule as you may need to take time off work. And check to make sure they dentist you are using does not have vacations planned during your treatment regime that will extend the time it takes or mean you are in the hands of another dentist.
Previewing the Results – Can your chosen dentist provide you with digital preview images of what the work will look like or models of how it might look? It is little things like this that all help towards building your confidence for undergoing the treatment and in your dentist.
Technology – what modern technology does your dentist have access to ensure you are getting the very best treatment in their clinic? This could include X-ray facilities, cameras that can be used inside the mouth, dental lasers
Referrals – social media a great way for gaining word of mouth referrals. If you don't mind people knowing what treatment you are looking to get, then ask on social media if anyone can recommend a good cosmetic dentist. Or if you want to keep it private, you can say you are asking for a friend or you can ask a friend to do it for you. A family doctor or pharmacist might also be good sources of information when sourcing the right dentist for you.
Second opinions – if you feel unsure or uncomfortable with a quote or consultation you have been given, don't be afraid to seek another one. This could be a life changing procedure, so you need to get it right. Keep asking until you feel comfortable with the person you are appointing to do the treatment for you.
Questions – don't be shy to ask questions of your dentist to make sure you are getting the right treatment for what you want, and to make sure you understand what is involved. Make a list of your questions before you go to the consultation as you might forget when you are put on the spot in the clinic.
Accreditation – if you are not sure where to start in finding a cosmetic dentist, then you can always look at the professional associations that cosmetic dentists are accredited to so you are sure you are using a qualified and experienced professional.
Cosmetic dentistry involves life changing procedures, so ensuring you are getting the right treatment by the right team for the right price is essential. Do your homework and you will be walking away with a smile that will shine from ear to ear and give you the confidence that maybe you have been lacking all of this time.